I spent much of my Christmas break watching (or re-watching, as it were) classic holiday themed episodes of many of my favorite TV shows. So in the spirit of the season, here's a list of my Top 10 Christmas Comedy Specials. I suppose I stuck with comedies instead of including all genres of TV because I always preferred reruns of
A Christmas Story
to
It's A Wonderful Life
growing up.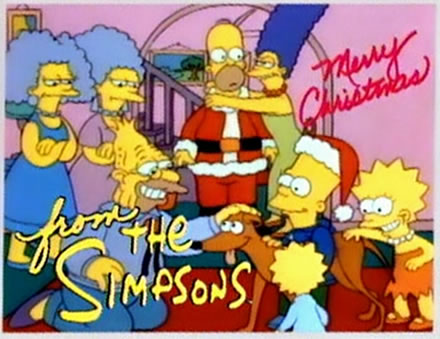 10)
The Simpsons
"Simpsons Roasting On An Open Fire" (1989)
The first full-length
Simpsons
episode is a still-touching holiday classic. In these hard economic times, it's easy to relate to how broke Homer was, especially in the earlier seasons. This is the episode where he gets a second job working as a mall Santa, only to be outed by his own son Bart. They stay broke in the episode (and, for the most part, throughout the series) but do end up with a new member of the family, their dog named Santa's Little Helper.
9)
Arrested Development
"Afternoon Delight" (2004)
This Los Angeles-set family sitcom is definitely the least-Christmasy entry on the list, but it's nod to the holidays with two company Christmas parties does provide plenty of hilarious moments. While the Bluth family doesn't learn any lessons about giving or sharing (in this episode or any other), they do embarrass themselves (twice) by singing (that's right) "Afternoon Delight."
8)
The Boondocks
"A Huey Freeman Christmas" (2005)
The Freeman boys are up to their usual dose of extreme black behavior, even for the holiday season. Huey is afforded the chance to take creative control of the Christmas play, while Riley reignites a rivalry with Santa Claus. I always admire Huey's attempts to get the world to wake up (in this case, by rewriting the play as The Adventures Of Black Jesus), and I always laugh out loud at Riley's irresponsible antics (the throwing of the chair at Santa was a class act), and Aaron McGruder's vision tied in perfectly with the spirit of the season.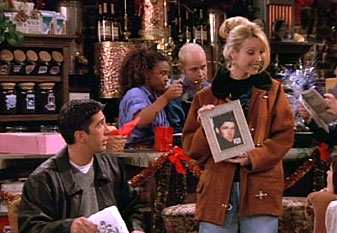 7)
Friends
"The One With Phoebe's Dad" (1995)
I will admit to being a bit of a sucker for
Friends
still, especially in those idealistic and still-genuinely-good early years when Ross and Rachel weren't even together yet (much less past that "We were on a break!" stuff). The silly furnace-stuck-at-hot party scenes provided wacky balance to the dramedy beats of Phoebe discovering that not only is her father not the good looking man in all the picture frames at Macy's, but that he still lives in NYC (rather than being a famous tree surgeon living in Burma). But my favorite scene is the last one, where an ill-prepared Chandler and Joey give gifts of whatever was lying around in their apartment (including windshield wiper blades, cans of soda and "ribbed for her pleasure" condoms).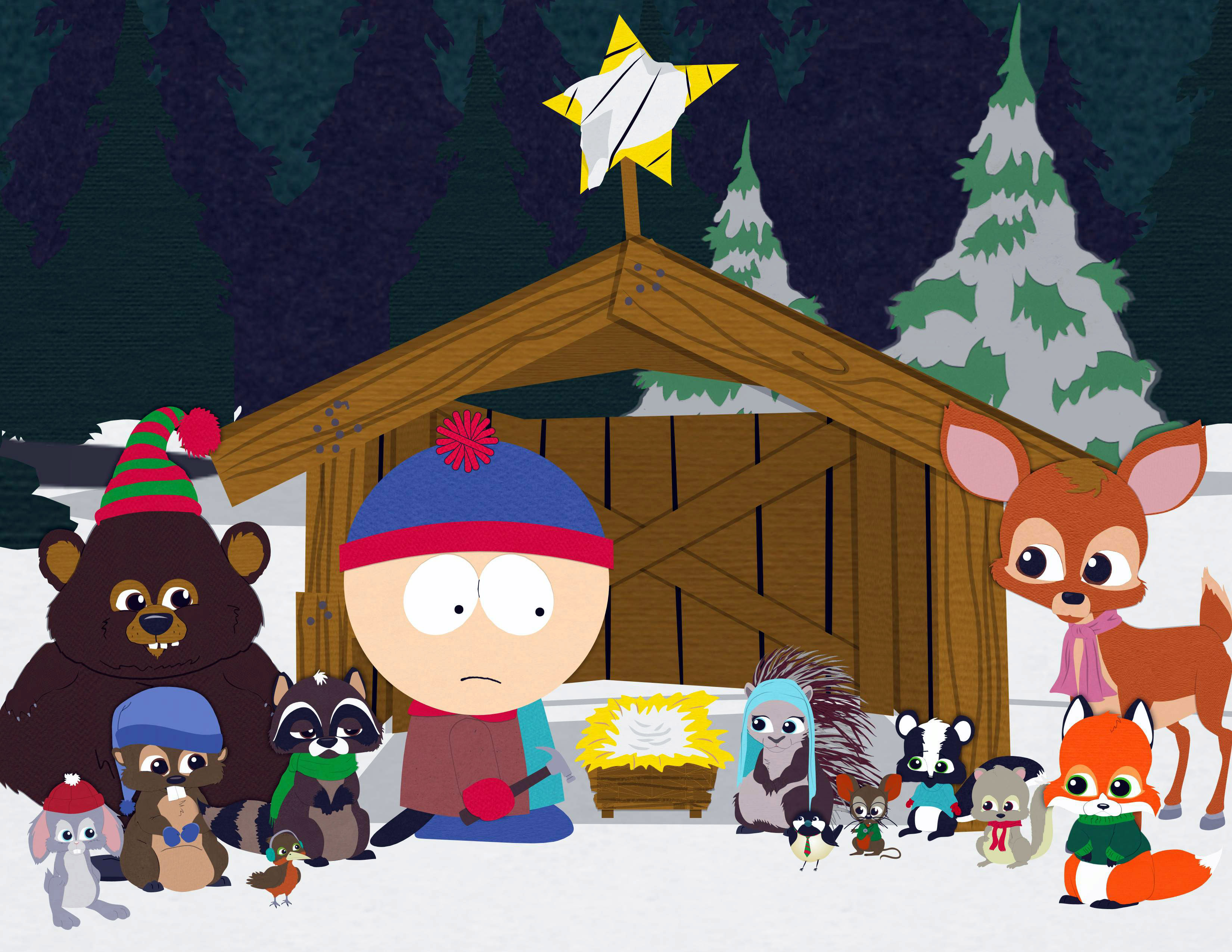 6)
South Park
"Woodland Critter Christmas" (2004)
Trey Parker and Matt Stone have written some crazy holiday adventures for the boys from South Park, but this is probably their wildest and most well-known. And with good cause; Stan accidentally kills a noble mountain lion who was supposed to prevent the birth of a woodland critter Son of Darkness, so it's up to him to train the lion cubs to perform an abortion before it's too late. Of course, it all ended up being Cartman writing a holiday story for a class assignment, but it was perfect
South Park
and great Christmas fun.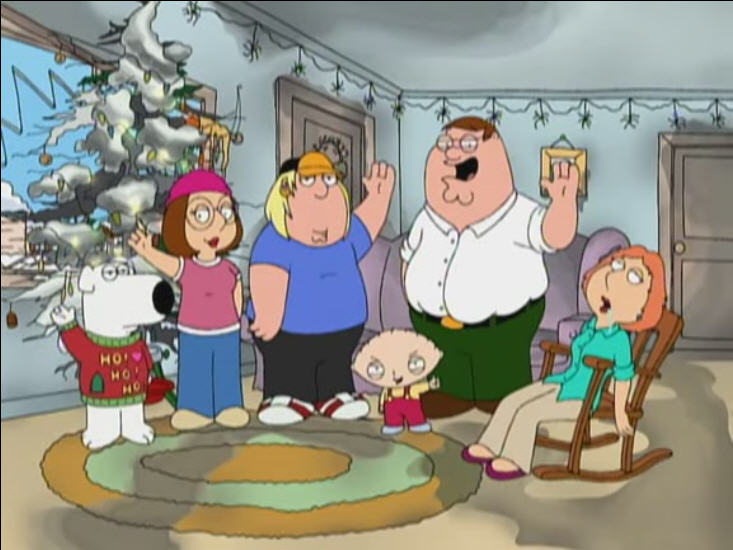 5)
Family Guy
"A Very Special Family Guy Freakin' Christmas" (2001)
The third season is one of my favorites of
Family Guy
, and this episode is a prime example of what makes it such a free-wheeling and irreverent comedy. The all-too-sitcomy storyline of Peter trying to get the family's present back is beside the point - in fact, plot is rarely the point for
Family Guy
. The jokes fly merrily by, sharp and surreal as usual, and I do enjoy the secondary yarn about ever-the-evil-baby Stewie agreeing to play Jesus in the Christmas pageant so that Santa will provide him with plutonium.
4)
The Office [U.S. version]
"A Benihana Christmas" (2006)
The
American
Office
set the standard for Christmas-themed episodes, outdoing themselves every year. Though I was tempted to award the slot to this season's excellent "Classy Christmas" (they re-united Michael and Holly, and Dwight finally one-upped Jim on the pranking), after reviewing "Benihana Christmas," I couldn't think of a more deserving Xmas ep. The walking, talking scalarious boss that is Michael Scott is in perfect form here, unable to tell Benihana employees apart and aching to get away with a woman (just about any woman) to warm Sandals, Jamaica.
The Office
hit its highest heights in this season, and "Benihana Christmas" is proof of that.
3)
Futurama
"Holiday Spectacular" (2010)
A three-part holiday special episode which touches on Christmas, "Robanukah" and Kwanzaa and kills off the main characters at the end of each act? What more could we ask for from the best retro-futuristic sci-fi sature to air from here to Omicron Persei 8? The
Futurama
crew has already tackled Christmas and Robanukah (a fake holiday Bender created to avoid having to work) before, and even acknowledge Kwanzaa Bot before, but this one took the too-loose-to-be-canon spirit of their "Anthology Of Interest" episodes and turned it into festive delight. I hope this becomes a yearly tradition a la "Treehouse Of Horror."
2)
The
Ren & Stimpy Show
"Son Of Stimpy" [also known as "Stimpy's First Fart"] (1993)
Stimpy's Christmas miracle is wonderfully gross, the exact kind one would expect from a cartoon company called Spumco.
Ren & Stimpy
was a cartoon that should not have been aired on the kid's network Nickelodeon, but due to some glitch in the cosmos, my generation was lucky enough to take in this strange mix of sacred and profane; not only that, be we were delivered this skewed holiday classic of family and togetherness, loss and acceptance. This show pushed the boundaries of just about anyone's sensibilities, but "Son Of Stimpy" perfectly captured the insane-quasi-homosexual dynamic of a psychotic chihuha and a dumb-but-fun cat and gave us a heartwarming Christmas tale to boot.
1)
It's Always Sunny In Philadelphia
"A Very Sunny Christmas" (2009)
Last year's special will be making the yearly rotation for me, up there with
Scrooged
and
Home Alone
as a highly rewatchable Christmas classic. Featuring the gang coming to terms with the hardships of the holidays, this two-fer episode has many a timeless gag: Frank being birthed from the couch, Mac and Charlie's ghosts Christmas past, Dennis and Sweet Dee trying to trick Frank into thinking he wasted his life by not getting them their desired presents. The selfishness and insanity know no bounds for our fearless American heroes, and I wouldn't have them any other way. If they don't make another Christmas special, I'll understand why; I don't know how I would have been able to top this myself.