Released January 20, 1997
The beginning of the greatest electronic duo in music history. Simultaneously simple and extremely effective, Daft Punk inspired international interest in French touch music while creating their own blend of acid house techno funk. Hypnotic singles "Around The World" and "Da Funk" are so minimal – each track on the album has no more than a dozen samples – but they are so blissful all the same. It doesn't take much to make beautiful music, just a keen understanding of the right sounds for the right beat at the right time.
Homework
skillfully showed everyone interested in dancing how it's done.
Released February 10, 1997
For their fifth album, the sardonic Britpoppers set their sights on American rock. Blur's self-titled release found them redesigning their sound by turning into a fuzzy-amped rock band. "Song 2" and "Bettlebum" were the singles that proved the move marketable, but all of these songs show Blur getting slightly more sincere, a little less pompous and pretentious. Instead of trying to subvert a sound, they embraced it, which worked on a cross-continental level. Both sides of the Atlantic rocked along, turning Blur into international superstars and setting them up for the eventual break-up and Damon Albarn's next big band.
63. ELLIOTT SMITH Either/Or
Released February 25, 1997
A bewilderingly blissful mix of Beach Boys-inspired harmonies and dour lyrical introspection is felt in every quiver of Elliott Smith's battered, whispery voice.
Either/Or
saw the singer moving more so away from his voice-and-guitar songwriting approach to include (slightly) more intricate arrangements with heavier self-instrumentation to work with, while retaining his use of multi-tracking vocals and sounds to create textures and layers. His last album before being heard on
Good Will Hunting
and going mainstream,
Ether/Or
is a testament to what one musician with a lot of voices and sounds in his head can create with the right drive.
64. THE CHEMICAL BROTHERS Dig Your Own Hole
The Chemical Brothers sorta became electronica's Led Zeppelin by releasing their version of
II
,
Dig Your Own Hole
. Loud and bombast, paying dear tribute to the stuff that got them where they were while paving the way for many to follow, The Chemical Brothers made samples and keyboards sound like a factory of precisely manufactured noise. Guest vocalists Liam Gallagher and Beth Orton (along with some sampled Schooly D and Kool Herc) break up the instrumentality with superb lyrics and pitch-perfect delivery. The songs are massive, and that an entire electronica album can stay bangin' so steadily is astounding.
65. SLEATER-KINNEY Dig Me Out
Hate it or love it, Corin Tucker had a warble to her wail that demanded attention, which was quite befitting of the sounds coming from the group she was fronting. Sleater-Kinney was a rock-n-roll band, pure and simple – beyond all the politics and geography and timeliness, they made music to make you move, as aggressively as possible. Carrie Brownstein got a lot of distorted moaning out of her guitar, and it was always the perfectly complementary type of playing that genius players understand (when not to play as much as when-and-what to).
Dig Me Out
is their all-too-of-course breakout.
Violator
is indeed the most monumental album Depeche Mode offered up in the '90s (with the former-keyboard-only group playing guitars and producing some amazing singles to start the decade off).
Songs Of Faith and Devotion
reaffirmed their status as the most popular electronic band ever (while showcasing their further influence from/on popular rock). But
Ultra
was the one that proved the band could withstand near-collapse and come out swinging. David Gahan never sounded more impassioned (for obvious reasons), Martin Gore's lyrics remained masterful, and the band played with a subtle sharpness that made them sound more alive than ever.
67. RADIOHEAD OK Computer
First, Radiohead made the perfect early '90s rock anthem ("Creep"), and then they created the perfect '90s rock album halfway through the '90s (
The Bends
). What else could the band do but invert themselves before approaching the second half of the decade?
OK Computer
is not a '90s album, it just happened to be released in 1997. The first of Radiohead's many "challenging" albums, this one reinvented the formulas for success and songwriting, all coming out as if from nowhere.
OK Computer
laid the groundwork for the future of not only Radiohead but also modern rock music at large.
68. SPIRITUALIZED Ladies & Gentlemen We Are Floating In Space
The band and album name alone give one the impression of being severely (ahem) medicated, but the pharmaceutical artwork and symphonically minimalistic mantra music only fuel that intense feeling of inebriation gained from listening to trance-induced tunes. Spiritualized was Jason Pierce's second band to indulge in the transformative nature of repetitive melodies, but unlike Spacemen 3, Spiritualized embraced a more ethereal and lush orchestration accompanying the arrangements.
Ladies And Gentlemen We Are Floating In Space
may be music to take drugs to, but it's enchanting nonetheless. I've been sober and still seen the light found in these wonderful songs.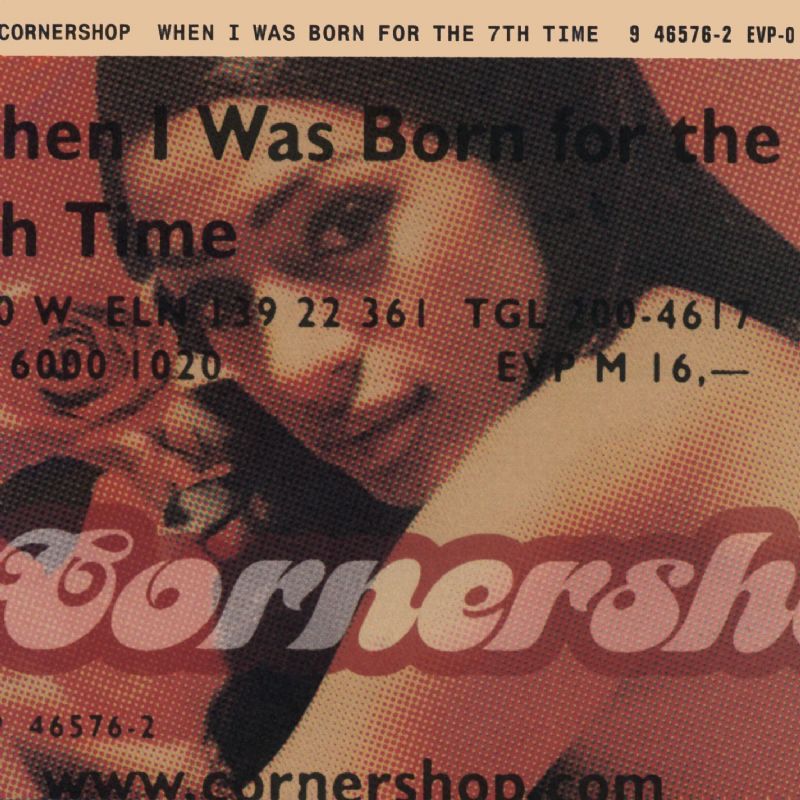 69. CORNERSHOP When I Was Born For The 7
th
Time
Released September 8, 1997
For Cornershop,
When I Was Born For The 7th Time
was the exact sort of reincarnation of the band's sound that the title suggests. Blissfully banging beats all reined in by very British culture and very Indian heritage, Cornershop's cornerstone album conveys everything that made them so chaotic and incendiary, but polished to perfection by Dan The Automator, who helped produce the sucker (he would go on to generate similarly groovy results with Galactic in the upcoming decade). Singer/songwriter/guitar-and-dholki player Tjinder Singh is a crafty wordsmith and the band deftly parties along, inviting all listeners to do the same.
70. BOB DYLAN Time Out Of Mind
Released September 30, 1997
It was kind of strange for the already-prolific-then-stagnant Bob Dylan in 1997 to end up releasing not only one of his best collections of songs ever, but one of the best albums of the decade as well.
Time Out Of Mind
is a darker and more brooding auditory affair than its predecessors, and an unlikely champion of the later-day Bob Dylan canon. Concerned more with the emptiness of disappointment and the promises of mortality,
Time Out Of Mind
was hardly the rebel raconteur's music from the past. Instead, it pointed to where Dylan was headed in the next century.
71. MODEST MOUSE The Lonesome Crowded West
The Lonesome Crowded West
is certainly Modest Mouse's most difficult and abrasive album to date. It's also highly rewarding, the type of sprawling rural rock down that they're known for. While the production isn't quite as clean or lush as on their debut
This Is A Long Drive For Someone With Nothing Left To Think About
(or future major label works), the rawness works to the band's advantage. Isaac Brock spits and screeches lyrical odysseys of in-the-sticks dystopia, Jeremiah Green and Eric Judy ricocheting along with him, changing up tempos while staying simultaneously tight-knit and mad as all hell.
72. DEFTONES Around The Fur
Released October 28, 1997
Sacramento-based heavy band Deftones were a cut above the rap-/nu-metal popular at the time they started getting national attention, but they clearly were some kind of "hardcore" band. Their aptly titled debut
Adrenaline
was indeed a ferocious creature. They followed it up with
Around The Fur
, which further testified that this was no ordinary loud rock group. The 'Tones have evolved magnificently (and tragically) over the years, but it's nice to go back and hear how tight-knit and focused they've always been, especially on these sessions.
Around The Fur
is uniquely melodic and furious and begging to move you.
73. RONI SIZE/REPRAZENT New Forms
Released October 28, 1997
Whether you cop the original single-disc UK version or the American two-piece set, Roni Size & Reprazent's magnum opus
New Forms
represents so much of what made '90s dance music such an exciting and mind-bending experience. Not just purveyors of drum 'n bass, the Reprazent crew threw in plenty of big beat, jazz, hip-hop and funk elements to keep things interesting. Roni Size's beats are hard hitting, mechanical yet elastic, organic yet synthesized. And the flow of each song is carefully orchestrated, always expanding or exploring but never getting lost or irksome. Only Goldie came this close to classic.
74. ALABAMA 3 Exile On Coldharbour Lane
Released November 11, 1997
Larry Love's irony-infused vocal sermons may be synonymous with the opening credits of
The Sopranos
, but his band Alabama 3 have been a "sweet god damn pretty mother-fuckin' country acid house music" band (Larry's word, which make no mention of the rock, blues, dance and gospel they incorporate into their grooves) since the mid-'90s. Whether covering John Prine or quoting Mao Tse Tung or referencing Charlie Mingus, they know how to bring the noise like only the greatest can. If the churches in my neighborhood were anywhere near this soulful, best believe I'd be there front-and-center every Sunday morning.
The Andrew Hill album art homage may have been a clue towards the way MCs Slug and Spawn spit verses in circles around each other, building a rhythm in their rhymes with a cadence that matches what beatsmith Ant bumps on the turntables. Spawn left Minneapolis just before the Slug started touring and label representing. Before he was an indie rap household hero/villain, Slug was a hungry rhymesayer who couldn't wait to cleverly place words, and do it with appealing arrogance. The beats are rugged, the poetry is raw.
Overcast!
remains a loud warning of what was to come.
Released January 16, 1998
While many electronica music makers (and fans) are concerned with getting their dance on, some just want some smooth music to mellow out to. French duo Air clearly is of the latter mold, and
Moon Safari
is a chilled-out ride to a place with suspended gravity. Though not entirely instrumental, this disc never conflicts with its own ambience, and the singers help keep things lively and lovely. They'd go on to score Sofia Coppola flicks and continue to get their laidback grooves on, but
Moon Safari
is the perfect way to introduce downtempo fans to the pleasures of Air.
77. SIXTEEN HORSEPOWER Low Estate
Released January 27, 1998
Denver, Colorado may not be famous for having spawned the greatest Gothic country metal folk blues band in existence, but this does not change the fact that Sixteen Horsepower was a musical force unlike any in its time. Built around songwriter-and-multi-instrumentalist David Eugene Edwards and his spooky warbling-turned-screeching. 16HP's second album
Low Estate
found them taking their gritty southern soulful alt-country rock into even darker territory. Conjuring backwoods fables of biblical proportions, Edwards unleashed hellfire in his yelps as well as his reverential and tension-mounting sermons. To skew the famous phrase: Rock and roll could never country like this.
78. NEUTRAL MILK HOTEL In The Aeroplane Over The Sea
Released February 10, 1998
Neutral Milk Hotel's popularity seems to still be gaining momentum (they were recently mentioned in an episode of
Parks and Recreation
), despite the fact that front man and songwriter Jeff Mangum hasn't written or recorded an album since
In The Aeroplane Over The Sea
. Perhaps he's overwhelmed by the same obsessions that drove him to create his masterpiece, but Jeff Mangum hasn't really made a NMH follow-up since. Which is okay. It allows this instrumentally kaleidoscopic record to stay shrouded in mystery, an alt-pop renaissance for thousands of future fans that have yet to discover the strange charms within.
79. DAVE MATTHEWS BAND Before These Crowded Streets
A lot of people love to badmouth Dave Matthews Band, but they are one of the most successful musical groups in the world. The reason for this is that they excel at their live musical presentations, as opposed to their studio ones, which are hit or miss. No album of theirs merges the needs of a successful hit album with the band's ability to jam like
Before These Crowded Streets
, their last with international super-producer Steve Lillywhite. Getting dark, playful, contemplative and excitable in a way they never (in studio) had before, they expanded their boundaries while staying naturalistic.
If you can embrace the bizarre delights gained from listening to experimental cacophonic craziness, you couldn't do much better than giving
Super
æ
(pronounced "ah") a spin. Osakanese noiserockers Boredoms have been jamming their strange little jams since 1986-ish, but this krautrock-inspired opus is perhaps their most ambitious-yet-accessible record yet. Along with its predecessor (
Chocolate Synthesizer
, a reference to Tom Waits's "Chocolate Jesus"?) and successor (
Vision Creation Newsun
, their last album of the decade), this trilogy of weirdness is the crème de la crème of aural absurdity. Odd, sure, but these cats sure can groove when they want to.
81. BILLY BRAGG & WILCO Mermaid Avenue
Folk-loving heroes from both sides of the Atlantic got to pay tribute to one of America's folk forefathers. Woody Guthrie's guitar never literally killed fascists, but his words were often powerfully poignant. British bloke Billy Bragg was contacted by Guthrie's daughter Nora, and given permission to take Woody's completed-but-never-released lyrics and make them fit into music for a new generation. Bragg got Wilco to join in the cause, making
Mermaid Avenue
a great success – not just for staying faithful to Guthrie's spirit, but also for being a mighty fine album from Bragg & Wilco in their own respective rights.
82. LUCINDA WILLIAMS Car Wheels On A Gravel Road
Lucinda Williams is a hard artist to pin down for various reasons, but whatever your take on her is, you gotta admit that her voice can gut your soul like a quick knife. She'd been a recording artist for nearly twenty years when she released her fifth album,
Car Wheels On A Gravel Road
, and had deepened her strong songwriting without every having to really expand on it. Lucinda's take on country ditties can lean heavily towards blues or even rock at times, but she tells her poisoned tales with just enough rural weariness to always feel rustically alluring.
83. BEASTIE BOYS Hello Nasty
Their most beat-tastic album since
Paul's Boutique
,
Hello Nasty
finds the Beastie Boys making friends with Mix Master Mike and still embracing adventurous musical moments. Sure, this album didn't cause a ruckus quite the way
Check Your Head
or
Ill Communication
did, but all three MCs' trademark old-school humor, insight and cadence is apparent from start to finish. "Super Disco Breakin'," "Remote Control," "Unite," and the hit single "Intergalactic" are as funky and hard-hitting as any other hip-hop out there. They haven't been quite as ubiquitous throughout the 2000s, but this capped off a nice decade for the Beasties.
84. BLACK STAR (Talib Kweli & Mos Def Are) Black Star
Whatever you call their debut (and so far only) album, it's true: Mos Def and Talib Kweli are Black Star, and they came at a crucial moment in hip-hop history when the music and culture was in chaos. Tupac Shakur and Biggie Smalls had been gunned down, and the likes of Puff Daddy and Jay-Z were stifling hip-hop as much as aggrandizing it. Burgeoning MCs Talib and Mos delayed putting out their own solo debuts after realizing they had an undeniable chemistry, and made a full-length LP that brought Rawkus Records to prominence, and made for a stronger introduction.
85. QUEENS OF THE STONE AGE Queens Of The Stone Age
Released September 2, 1998
Josh Homme's brand "robot rock" still kept the ladies in mind, a quality missing from the majority of late '90s hard rock. After the break-up of "stoner rock" pioneers Kyuss, Homme started writing and singing his own songs, and Queens Of The Stone Age became the name for this strange outfit. Full of repetitive riffs and crashing-like-tsunami rhythms, this is the type of metal album that pushes everything over the edge while remaining in complete control of itself. Though its follow-ups are more widely acclaimed, their self-titled debut proved that they had the blueprint right from the get go.
Released September 29, 1998
Outkast were dead set on bringing the Funkadelic as much as the Parliament influence when expanding their dirty southern grit-hop sound that had already made them hitmakers on
ATLiens
. For their brilliant third album
Aquemini
, Big Boi and André continued to display how truly out of this world they were. The choruses were still dripping with energy and enthusiasm, and the beats and hooks alternating between synthesizer-drenched fuzziness and down-home funky instrumentation; Boi and Dré don't hold back on the thick Atlanta slang and diction, either. How could something be so regional yet so intergalactic? Only Outkast couldn't differentiate.
87. KRUDER & DORFMEISTER The K&D Sessions
Released October 13, 1998
This two-disc set features remixes new and old done by Peter Kruder and Richard Dorfmeister, an Austrian duo well liked for their dub-tempo remixes of popular and obscure songs from many different genres. Like their highly successful
DJ-Kicks
album,
The K&D Sessions
is a continuous in-the-mix collection keeps things deeply grooving like none other. And even though Kruder & Dorfmeister
still
haven't released a proper full-length follow-up (of original material) to their smash(ed) debut EP
G-Stoned
,
Sessions
proves to be on par with such auditory excellence. K&D make some of the best beats in the business, original or remixed.
88. REFUSED The Shape Of Punk To Come
Released October 27, 1998
While borrowing heavily from Nation of Ulysses and Born Against, Refused were still asking a very important question: With punk splintering into so many subgenres, and most of them being co-opted by the mainstream, what was punk?
The Shape Of Punk To Come
was Refused's answer to that. This harsh, strange odyssey definitely has the elements of punk and hardcore, but also goes into some strange sonic places that many groups, even punks, would be afraid to tread. Refused's swansong was simultaneously harsh yet experimental, daring yet striving for some semblance of past glory, and truly punk as fuck.
89. METALLICA Garage, Inc.
Released November 24, 1998
Well,
The Black Album
was legendary but also the beginning of the end. At least that's what it seemed to signify when the
Load
/
Reload
albums came about. It seemed that Metallica had forgotten how to rock, when suddenly, they rediscovered their cover band roots. Paying homage to their
$5.98 EP: Garage Days Re-Revisited
, as well as many of their New Wave of British Heavy Metal influences,
Garage Inc.
proved that these guys still had the knack for getting heads banging. Jamming with the San Francisco Symphony Orchestra was next, but this captured Metallica as the raw dogs they are/were.
90. DAVID GRAY White Ladder
The sad singer/songwriter bit had been done to death a thousand times by the end of the decade, it seemed. But then along came David Gray, who avoided what most adult contemporary musicians fall victim to: over-production. Gray backed up his guitar and piano with minimal electronic arrangements, subtle and sublime and completely effective. Instead of sounding like any other downtrodden singer, he made a distinct name for himself by blending beats with melodies. But it isn't just the electro-acoustic fusion that keeps Gray interesting: His lyrics are simply yet evocative, and his voice is tender yet passionately powerful.
91. BONNIE 'PRINCE' BILLY I See A Darkness
Released January 19, 1999
Will Oldham is a man of many musical monikers, but he's been more or less referred to as "Bonnie 'Prince' Billy" since
I See A Darkness
, his most iconic album. The title track was covered by Johnny Cash, which speaks to the skill of Oldham's songwriting. Though he usually sings in a harsh whisper, he knows what range means. His songs skip between darkly lustful and pleasantly wistful, always grounded in the roots of his Appalachian origins. These are folk songs that bring a smile to the heart, dark as they may be, still full of a certain joy.
92. BUILT TO SPILL Keep It Like A Secret
Released February 2, 1999
Many Built To Spill fans are probably curious as to how I could choose
Keep It Like A Secret
over any of their other '90s albums, all of them classics in their own right. I suppose I chose
KILAS
over
There Is Nothing Wrong With Love
or
Perfect From Now On
because it's very reaffirming to see Doug Martsch and the band maintain a high level of the wistful yet whimsical style that made them so endearing throughout the decade. Easily their poppiest record (with songs shorter than usual), Built To Spill still jam just as furiously as before.
93. THE ROOTS Things Fall Apart
Released February 23, 1999
Hip-hop's
Sgt. Pepper's Lonely Heart Club Band
couldn't have been made by anyone besides The Roots. First, there were barely any rap bands
in the '90s that didn't also hyphenate themselves with metal. Second, they were another group that was constantly evolving, changing it up with every album. Here, Black Thought's often-oblique lyrics came into sharper focus; his dense narratives float perfectly over waves of hip-hop cosmic slop. Detailed liner notes explain the elaborate recording process better than I could, but anyone can tell from first listen that
Things Fall Apart
unravels like no other album, hip-hop or otherwise.
94. EMINEM The Slim Shady LP
Released February 23, 1999
Eminem's reinvention for his second album changed the cultural landscape, mostly for the better. Despite nearly twenty years of three Jewish white guys running around rapping, hip-hop was still considered to be a black thing. Lo and behold, Marshall Mathers affirmed internationally that color was beside the point if you knew how to spit correctly. The beats backing him hit hard (thanks largely to Dr. Dre), but
The Slim Shady LP
is a verbal extravaganza above all else; unlike any other LP, Em unleashed nasty, hilarious, scathing, twisted tales and fantasies with eloquence and ease on an unsuspecting world.
95. RED HOT CHILI PEPPERS Californication
Every rock cliché possible was threatening to destroy Red Hot Chili Peppers, or so it seemed at one point in the later '90s. But dang if the band didn't come through, reuniting with original guitarist John Frusciante and releasing the transformative
Californication
. Retaining their funk sensibilities but approaching their song craft from a much more mature and world-weary perspective, RHCP created a successful end to the decade and made way for a new phase of their career as they readied for the next century. At times hard and edgy, at times restrained and contemplative,
Californication
remains their greatest album.
96. MOS DEF Black On Both Sides
Released October 12, 1999
Having already proven himself to be a stalwart traditional MC on the Black Star release, Mos Def decided to add a more soulful inflection for his next aural outing, which ended up being his solo debut. Mighty Mos stayed just as strong throughout the entirety of
Black On Both Sides
, by remaining engaging, playful, insightful and highly quotable. He wisely states, "We are hip-hop… Hip-hop is going where we're going," then unleashes the funk. Accessible yet hardly easy-listening, Mos Def's charming sense of fun and swagger come through just as much as his commitment to being intellectual and stirring.
97. HANDSOME BOY MODELING SCHOOL So… How's Your Girl?
Released October 19, 1999
Purists probably prefer Prince Paul's and Dan The Automator's solo '90s works (notably
A Prince Among Thieves
and
A Better Tomorrow
). I, however, adoringly respect that two of the best producers of the decade decided to get together a satirical act of high-rollin' hip-hop impresarios to parody the rap culture that was living a little too large at the time. While not as groundbreaking as Paul's De La Soul productions, nor as trippy as Dan's Kool Keith collaboration
Dr. Octagonecologyst
, Handsome Boy Modeling School's
So… How's Your Girl?
remains a fantastic album of collaborative hip-hop (with great guests galore).
Released October 26, 1999
A lot of noise was made in the name of feminism throughout the '90s, and some of it was decent music. Most of that decent music seemed to be composed by Kathleen Hanna, who not only fronted fem-punk pioneers Bikini Kill, but also got all electro-dance-pop sounding with Le Tigre. That should could reinvigorate and subvert punk twice – the first time sonically, the second through sheer do-it-yourself self-discovery – speaks to something found in Hanna that most riot grrrls didn't have: genuine skill matched with presence. John Cassavettes? Slippery synths and disco-punk singalongs? Who knew electronica could punk like this?
99. FIONA APPLE When The Pawn Hits The Conflicts He Thinks Like A King…
Released November 9, 1999
Fiona Apple showed a lot of passion and a promise of skill of her debut
Tidal
, but there was a lot of naïveté floating around her as well. Luckily, nothing got in the way of her grander ambition, and she grew leaps and bounds as a songwriter and performer. By the time she dropped her 90-word-titled sophomore album at age 22, Fiona and the world were both ready for each other. Jon Brion's production and arrangements well suit Apple's rich turns of phrase and surprising twists and turns. This album showcases a musical talent unlike any other out there.